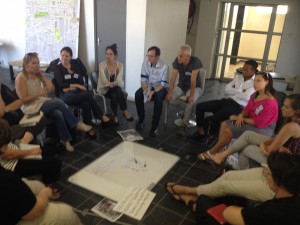 On February 5th, the  second Coworking Africa Meetup was hosted at The Design Bank space in Cape Town. Around 30 from South Africa gathered at the meetup to discuss best practices regarding how to strengthen the global and local coworking movement in Africa.
In 2013, coworking in Africa was barely visible on the global coworking map, with only 24 spaces according to The Global Coworking Sensus. Today, it's a different story. So far, the number of spaces have more than tripled in the last 2 years, with over 300 spaces (hubs and coworking) currently in operation. We can safely say that the African movement is on the same track that Europe and the USA were 5 years ago and that coworking is here to stay. Thus the next logical step via the Coworking Africa network is to support the growth of  African coworking communities by fostering knowledge, sharing and collaboration.
The 2016 event aimed to explore ways in which we can nurture South African relationships in order to connect spaces between local communities of freelancers, entrepreneurs and innovators, in addition to focusing on what we can do to stimulate collaborations, exchanges, social and business opportunities for members in South Africa. We put focus in this region, as it is currently leading the coworking movement throughout the African continent, with around 53 established spaces out of total number of 340 coworking spaces according to Global Enterprise research.
Coworking Africa meetup 2016: Continuing the conversation
Steven Harris from The Design Bank opened up the meetup by welcoming the coworking community and telling the Design Bank story. He led attendees through the space philosophy, explaining why they were more than just a coworking and maker space, by showing their various innovative recycling initiatives.
The first keynote was presented by David van Berkel, owner of the first and only coworking space in Pretoria, Grounded at Echo. David introduced the South African coworking scene, continuing to give a complete overview while highlighting the challenges that the country has faced due to the lack of coworking awareness, wrapping things up  by discussing the specific barriers needed to be broken to get entrepreneurship participation through collaboration.
Lauren Wallett from Sillicon Cape, a tech community based in Cape Town, also gave some examples about how coworking spaces can work together and presented a new project: Coworking South Africa, the first coworking directory in the region.
Ian Merrington from The Barn, one of the oldest tech hubs in Africa based in Cape Town, explained in his presentation "How important is coworking to the creation of a thriving ecosystem of digital entrepreneurs" that developing a globally competitive tech and innovation sector can enable sustainable economic growth while also providing greater employment.
Major coworking players also joined the conversation
Vanessa Sans of Coworking Europe, the biggest regarding the coworking movement, presented the most recent data of coworking in Africa, and also demonstrated the way that coworking conferences have enabled thousands of coworking communities around the world to be in touch with one another. She also discussed the importance of conversation and a network of trust between coworking communities that can benefit to all the players, as it has been demonstrated in Europe and in North America over the last 6 years.
Last but not the least, Paul Kersten from Open, a coworking brand with 3 established spaces  in South Africa and with a new one coming soon, explained how through Open they are providing opportunities and benefits to their community by connecting worlds and creating ecosystems between different players such as entrepreneurs, corporations and professionals. He explained that building and connecting communities where trust, sharing and ideas can flourish, and where people are equal in a playing field that is accessible to all participants.
Today, we are fully aware that the way we work has changed and workplaces need meet these changes. As these transformations take place all over the world it is only natural that Africa should join the movement. Coworking spaces are the engine of local economies, and from that perspective Africa is no different from any other continent. This social boom within cities ultimately creates a healthy, dynamic and growing economic environment. As already experienced in Europe, the USA and now in Asia, we strongly believe and we always say that « the more coworking communities we have, the better off the country will be! »
Keep updated as all presentations will be published in the coming weeks.