Jon Stever is the Founder of The Office, a community workspace and hub of hubs that hosts and connects the grassroots innovation and entrepreneurial ecosystem in Kigali, Rwanda.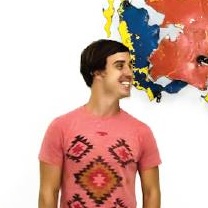 What is The Office ? How and why did you started it ?
The Office is a hub of hubs.  We are a community workspace, a community venue and a physical community-focused entrepreneurial ecosystem.  Our work is aimed at supporting the entire creative and entrepreneurial ecosystem across the city.
We started in October 2012 with a small space. Since then our community has taken over our entire building and we have partnered with a new technology incubator, think, to open a second open workspace in another building across town. We have hosted some major cultural and intellectual events in the city over the last two years, from TEDx to film festivals to 3D printing workshops to social enterprise happy hours to art exhibitions. In the next few months we will launch Kigali's first technology park. We are also an Impact Hub candidate and will be applying for Impact Hub membership in April to connect our community of social entrepreneurs with the amazing global Impact Hub community.
Is there place for coworking spaces in Africa, aside the many tech hubs ?
There is absolutely an important place for traditional coworking spaces in Africa alongside the tech hubs, and they are not necessarily different.
Afrilabs
, the network of innovation hubs in Africa, for example, counts several coworking spaces among its members, such as
The Office
and
District
.
Tech hubs are incredibly important spaces for techies and entrepreneurs to learn skills and explore opportunities, but in order for the engineers to build and grow viable businesses they need to be connected with creatives, marketers, financiers, accountants and so on. In this way, coworking environments are a perfect compliment to the tech hubs that are popping up across the continent.
What is for you the biggest challenge coworking spaces face in Africa ? What about the customer base of freelances, startups, NGO, etc ? Is this audience big enough, according to you, to make those spaces financially sustainable on the long run?
The market for coworking is clearly more challenging in Africa than in other regions. Many of our recurrent costs, such as internet and commercial space, are significantly more expensive as a share of local income than in other regions while the number of freelancers and startups is proportionally much smaller. But, the model is definitely viable, as
The Office
is demonstrating.
One of the biggest challenges we face is the degree of non-market competition in this sector across the continent. Organizations and governments are now interested in being seen to « support innovation », but they often end up creating distortions in the market. When selected spaces are provided with recurrent cost subsidies it becomes much more difficult for other spaces to operate on a purely commercial and sustainable basis.
What can you tell us about the ambition of Rwanda to become a digital friendly country for entrepreneurs ? What is the role coworking can play ?
Rwanda's ICT strategy is ambitious and absolutely achievable. ICT is one of the priorities of the national development plan, and the progress has been incredibly fast thanks to the active work of the Ministry of Youth and ICT.  Olleh Rwanda Network, for example, a joint venture between Korea Telecom and the Rwandan Government, is rolling out 4G across the country.  Download speeds in Kigali can now rival any capital city in the world. 
There has also been a major and broad-based push to build tech skills in the country and to create a supportive environment for startups. Carnegie Mellon University has opened their world class university in Rwanda. The Government, JICA and the Rwanda ICT Chamber run a well-known tech hub, kLab. Tigo has launched a technology incubator in Kigali, think, that is investing in and supporting tech companies that have the potential to scale across the continent. And, there are a number of really exciting young companies–such as HeHe Labs that work out of The Office–that are building platforms and tech solutions that are poised to disrupt traditional sectors. There are also numerous programs supporting general higher education for Rwandan students–such asBridge2Rwanda and Kepler–and there are many world class facilities being built for students here, such as the high school science lab at Agahozo-Shalom Youth Village. 
Coworking plays a vital role in the development of the tech ecosystem. Research shows that collaboration between existing organizations and entrepreneurs is actually more important than any of the individual components of an ecosystem. Coworking spaces faciliate this collaboration by connecting tech entrepreneurs with eachother, connecting tech entrepreneurs with support organizations and finance, and connecting tech entrepreneurs with the freelancers and service providers that can help them scale. 
At The Office, for example, there is an ecosystem of support. At our HQ, Educat, an enterprise and leadership training organization, is providing hands-on support to over 100 entrepreneurs. Ejo Partners, an investor matchmaking and consultancy company, is supporting entrepreneurs to access capital. Our second location at think has created a linkage with that technology incubator as well their management, African Entrepreneur Collective, which also runs another excellent local business development organization, Inkomoko. We also host one of the most successful and innovative social enterprises in the region, One Acre Fund.
Coworking spaces in Africa can secure power and high enough bandwith for workers and bring an answer to the infrastructure issue. Do you agree with that assumption ? (yes, no, why)
Yes. Coworking spaces can generate economies of scale to solve these problems, because our communities can leverage our joint bargaining power to make investments that wouldn't be possible if we were working in isolation. 
Moroever, coworking spaces bring together the first-adopters and the influencers across our cities, and this creates a really interesting co-branding opportunity for telecoms and other service providers.  If a telecom is interested in reaching SMEs and the creative and entrepreneurial community, then they should find a coworking space to kit out with fast internet to market their products! Similarly, development organizations that want to support innovation and private sector development should be looking to find existing community-focused coworking spaces to support.
Where do you see coworking in Rwanda in five years time ?
I really want to see more people realizing the benefits of collaboration and I want to accelerate the rate at which people come into contact with new people, new ideas, new approaches and new ways of doing things, because that is where innovation comes from. That is how people realize their full potential. That is how we will build more empathetic and collaborative societies. That is how we will deconstruct the pervasive social inequalities that divide are species based on gender, ethnicity, religion and wealth. 
Coworking spaces and hubs ironically have perverse incentives to operate as silos.  In other words, the spaces and hubs that ostensibly focus on collaboration, often do so only amongst their own communities and networks. Spaces and communities often do not collaborate with eachother across cities because they face perceived competition for members, PR, funding, and identity.  
In Kigali we have a different vision, a vision inspired by local culture that can be compared with ubuntuism. Several spaces and organizations are coming together to build a new movement. We are launching a coalition amongst the entrepreneurship centres and creative spaces and organizations in Kigali to work on fostering greater collaboration between our communities.  Because, we believe that if we work together across the city, that we can accelerate development. In five years, I envision a number of spaces across the city that form a cohesive and collaborative ecosystem that is churning out world-changing people and innovations. 
I believe our model is replicable, and we are working on a manifesto to spread this approach to other cities around the world.