Can you remind us of what Indy Hall is?
Indy Hall is a coworking community in Philadelphia, Pennsylvania, USA that we started in 2006. That makes us one of the longest-running spaces in the world.
If we're "famous" for anything, it's our relentless focus on community. At the heart of Indy Hall, you'll find great people having authentic and meaningful experiences. We are living – and working – the good life.
We believe in sharing the good life & actively working towards it together.
How and why did you started?
I started Indy Hall because I was lonely. I didn't so much need a place to work as I needed people to work around.
I'd quit my job as a web developer to freelance, and found that freedom and flexibility of being independent was awesome but DAMN it was lonely.
It seemed easier to find like-minded people anywhere except in my own city. So I spent nearly a year looking for those people. As I found them – I realized that many of us had the same problem in that it was difficult to find other people who had the same interests and passions we did.
By the time we were actually considering opening a coworking space, it was less like opening an office and more like building a village. The community we'd already built was invested in having a place to gather and work and meet and learn and explore.
I didn't start Indy Hall for the community, I started it with the community.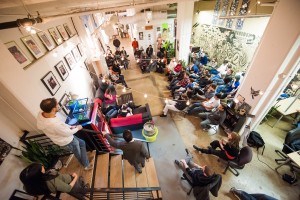 How do you figure out the building up of coworking communities in Africa?
One of the worst things I could do is show up in Africa and say "Here's how we built our coworking space in Philadelphia. Do it our way!"
Coworking is an incredibly local experience. Indy Hall's experience is the way that it is because we started in Philadelphia. The city's local culture and DNA is baked in. I think that's what makes us, us.
When I see new coworking spaces simply copying what they see in other coworking spaces from different places, I know they're setting themselves up for failure. This happens very often in the US, and I'm seeing it more and more around the world as people try to copy the "visible" elements without understanding why they're there in the first place.
I'm most excited for two things about coworking in Africa: the first is to discover the differences in our cultures that will make coworking in Africa unique. But the second is to discover the similarities, the basic human elements that we all share.
I'm coming to share, but I'm also coming to learn.
What kind of practical collaborations would be possible between communities in the US and in Africa, do you think?
My personal philosophy on collaborations is also at the heart of Indy Hall's success: true collaborations start on the foundation of a trusting relationship, not a transaction. Said more simply, we need to get to know each other before we work together.
So right now, I think we need to focus on truly getting to know each other. And then…the kinds of international collaborations that people crave will become not only more possible, but natural and effortless.
Is there something specific you expect from the Coworking Africa conference?
Over the last year, more of the people who join my list Coworking Weekly have introduced themselves from somewhere in Africa. It has been amazing, and exciting, to meet them and learn what's happening in their cities, towns, and villages.
Villages. I want to know what coworking in villages is like!
This is a pioneering conference for a region. Not just a region, but an entire continent. That's incredible, and I'm honored to be able to be a part of it.
Every time I've been to an event like this, I've gotten to see people who never would've otherwise found each other meet for the first time. That experience is truly magical, to find your tribe. It's the same kind of thing that a great coworking experience can provide…except compressed into a couple of days full of gathering and working and meeting and learning and exploring.