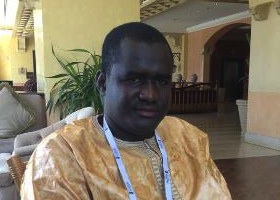 Tidiane Ball is the founder of DoniLab, a coworking space rooted in Bamako, Mali. Tidiane tells us about is experience, the impact of coworking and how coworking might rise in his country as well as in Africa, broadly speaking.
What is DoniLab ?
DoniLab is a coworking space based in Bamako, Mali. Its aim is to encourage entrepreneurship among young Malians.
What can you tell us about your story ? Your focus ?
In our African countries, young people have projects but have no environment conducive to develop. I was in the same situation. In 2009 I had the idea to create malisante.net which is a medical information site. Being student at the time I did not have the means or to take office or to have a fixed Internet connection. I was forced to go to the cyber cafe for updates to the website. In 2013 I decided to set up DoniLab to help all those who are in the same conditions. Our goal is to foster entrepreneurship among young Malians.
How would you describe the situation of coworking in Mali ? Where does the demand come from ? Is your community mainly made out of freelancers, startups, NGO?
Coworking is in a start in Mali. The demand mainly comes from young unemployed graduates. This is explained by the fact that these young people have realized that they need to create their own business and work in synergy. DoniLab is an NGO.
Is this audience big enough, according to you, to make those spaces financially sustainable on the long run?
We believe DoniLab will be financially independent on the long run. Because the craze that creates space among young is very large. Young people aren't reluctant to contribute because they see this as an opportunity.
What are the biggest challenges you have to face ?
The challenges ahead are numerous: the involvement of authorities in support of coworking spaces, obtaining lower internet costs, which are very high, and Partnerships
According to you, offers coworking a solution to offer a better, more reliable, internet broadband connection for a bigger audience in Africa ? What about power outages ?
The big effort has to come from telecoms operators. For example, in Mali the maximum throughput for internet entrepreneurs is to 384 kb/s for USD 70 per month. Other offers are reserved for large companies because they are too expensive. Power outages are frequent so we're about to go to a solar energy solution. This will allow us to save time and make money savings.
What can you tell us about the ambitions of Mali in terms of digital entrepreneurship friendliness ?
Digital entrepreneurship begins to take off in Mali. Many young people are interested. The government initiated the project 'Mali Digital 2020'. This project aims to make Mali a technology hub by 2020.
Do you thinks coworking spaces community in Africa should/could collaborate more ? If yes, in which fields ?
The coworking space in Africa must work together to exist in the long term. These collaborations can be: a technology exchange, exchange of knowledge and experiences. In this context, for instance, we have a partnership with Ouagalab Burkina Faso.
What would you expect from a conference such as the Coworking Africa conference ?
Coworking Africa conference can be an opportunity to meet people doing the same thing as me, to exchange our experiences. But also to create a network and partnership