Kresten Buch was in need of an efficient office space that catered to startups and also offered a professional working environment. Yet, there didn't seem to be any available workspace in his area that could meet his specific needs, so he decided to start his own, and that's how Garage coworking was born.
Today, Garage is a growing network, with 3 established spaces in Cape Town, Nairobi and Lagos. Each space has it's own identity, which in turn has created an environment ideal for creating unique partnerships both locally and internationally.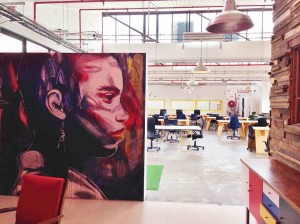 Space curation helps create a diverse business community
Garage's first space, founded in partnership with Google for Entrepreneurs, opened in Cape Town This made the Cape Town location the first tech hub meets coworking space out of the network. Eventually Kresten took over, and the first location became the official platform for the 88MPH accelerator program from 2012 to 2014.
Located in Woodstock, the first Garage is a major part of a neighborhood that is now considered to be one of the more creative districts of Cape Town. An established cornerstone of the South African coworking community, the Cape Town Garage primarily supports tech, mobile and web based startups as well as entrepreneurs. Although they do not necessarily require tenants to be married to a particular profession, they do specialize in those working within the tech sector, and thus can offer relevant support.
Riding on their success in Cape Town, Garage expanded in 2012 and opened their second space in Nairobi. With 800sq meters of space, including meeting rooms, and hangout spaces, Nairobi Garage also offers all the professional amenities needed for growing businesses. As the space in Nairobi is larger than its sister spaces, there is also more room for bigger teams and SMEs. Their most recent space opened in Lagos in 2014, which is co-owned by L5Lab.
Garage helps the professional community overcome obstacles
All three spaces meet the needs of their varied communities, yet they are united by the fact that they cater to the freelance and startup community, which is making major steps in the tech, mobile and web industries. While each area is unique, all spaces have shared a common set of obstacles.
Aside from the fact that professionals struggle to find affordable space to work, many SMEs in South Africa suffer from frequent power outages and a lack of a consistent and strong internet connection.
Garage Space manager, Dante Roets, stressed in his presentation at last year's Coworking Africa conference that "coworking spaces have become the most viable homes for tech businesses across Africa", due to their ability to overcome these obstacles. Through a partnership with WorkOnline, Garage Cape Town was able to stabilize their internet at a high bandwidth for a low cost.
In Lagos, the space found themselves having to pay extra attention to promotion, as coworking is relatively unknown in Nigeria. Yet, the hard work has paid off and there is now a growing demand and the space aims to become the largest coworking platform for entrepreneurs in Africa. After installing a generator to reduce the harmful effects of power cuts, coworking is  minimizing the loss of work and simultaneously empowering workers.
It's safe to say that professionals all throughout Africa face unstable internet connections and power outages, thus it is essential to start building an international network of spaces. The more spaces can collaborate, the easier it will be to overcome obstacles currently faced by the community. In addition to offering regional support, networks also have a better chance at securing international partnerships through supporting one another.