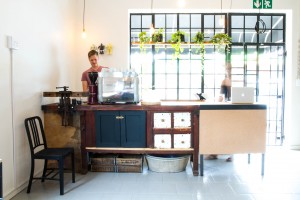 A little over a year ago, David van Berkel and his wife Karolien, realized their dream of opening coffee shop in the city of Pretoria, South Africa. Not long after opening their doors to the public, did they realized that there was a growing community of people coming in every day with their laptops. It didn't take long until a spontaneous and informal coworking community was born.
To meet the growing demand, they decided to make it official and opened Grounded Coworking, creating a network of spaces. We spoke with David about their experience opening the very first coworking space in Pretoria and what they expect from the community in the future.
Hi, David. Can you please tell us a bit about the process of opening Grounded Work?
There were two main influencing factors that went into the process of opening the official coworking space. Firstly, my wife was working from home as a freelance designer, and she hated the idea of always working alone. Thus, we already had the idea of transporting her workshop into a space where should could be connected to other people. Secondly, around the some time, we were given the opportunity to open a coffee shop in partnership with a not for profit co-youth organization, Echo. They are a inclusive organization that is based on a Christian values, which aims to support vulnerable youth in South Africa.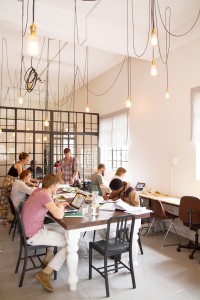 How did this lead to the official coworking space?
Once we opened Grounded Coffee, we realized that there was an increasing amount of people coming in to work, and we saw that we had inadvertently tapped into a small creative community that we didn't know existed before. Luckily there was a space available just around the corner from our coffee shop, and that was when we decided to open Grounded Work about 3 months ago.
Most coworking activity is happening in larger urban areas like Cape Town and Johannesburg, yet the movement is still growing. Pretoria is a bit of a sleepy city, and coworking is still a novel concept in terms of formalized coworking spaces. I think what we realized through that coffee shop was that there is definitely a creative community already here, and the need for physical space was the next logical step.
How did you inform the community about your space?
As it's still very early days for us, and we are juggling the coffee shop as well the newly minted coworking space, we are still in the process of building community.
So far, we have held two photography meetups and one Insta meetup, which were both run out of Grounded Work. At the coffee shop we provide information about the space and also have pamphlets on our tables, explaining the general concept behind coworking.
What steps have you taken in order to attract more members?
We have a number of ideas that we are currently trying to get off the ground. We are in the process of launching our site, which will have dedicated information to each space, coffee and coworking. In addition to practical steps, we are also planning to host events based on community building, as well as hosting conferences, and community dinner, which will open up Grounded Work to the greater community.
Another idea we have is to reach out to the diplomatic community in Pretoria. The city has the highest number of embassies than any other city in the world, which has inspired us to get in contact with the guesthouses so they can be informed about the space and potentially attract more international visitors.
One of the biggest benefits of using a coworking space in South Africa is the availability of a strong internet connection. Is that needed in Pretoria? And something that you specifically took into consideration?
In South Africa the maximum connection that you can get is 10Mb. Although in the more business centric areas they are now installing fiber optic cables, but that is not available to us yet. So, based on our community, we know that people only get a 4 MB line at most, and many people still don't have internet at home.
Yet, while we do offer a stable internet connection, which is valuable, we are primarily focused on providing social infrastructure, based on collaboration and community building.
How does your space affect the community on a local level?
A big part of Grounded's philosophy is to build relationships and partnerships with members of the immediate community. Echo is actually a shareholder in the business, thus they benefit financially, while also having access to our space free of charge.
We are also planning to launch a Grounded community garden, which would be located on a piece of land about a mile away.
Are there any specific challenges that you might be looking to address, such as high unemployment or lack of infrastructure for freelance professionals?
Unemployment is a massive challenge in Pretoria. The number is officially at 25 percent, but realistically it could be closer to 40 percent. There is an emphasis on the traditional employment sector in Pretoria, such as engineering, accounting, and also the diplomatic contingent, leaving little room for support for freelancers.
I was surprised at the large number of freelancers who came out of the woodwork once we opened Grounded Coffee, thus the informal sector is of course something we would like to address in the future, once we become more established.
Do you think initiatives like Grounded Coworking could play a role in helping to regenerate neighborhoods in the region?
Pretoria has a large variety of neighborhoods, from incredibly wealthy areas, to the central business districts, large township communities, and also Villieria, which is where we are based. Villeria is a very old part of Pretoria, and it's also a residential area, which has become an affordable option for young professionals and artists. Ideas like the garden could be an example of breathing new life into the community, as it is an runs the length of a long drainage canal, and is quite simply undeveloped land that is going to waste. We see a massive amount of potential for new creative businesses to succeed, and also for a more connected community.