In the small town of Moshi, Tanzania, located on the slopes of Mt. Kilimanjaro, a new project has opened up, Kili Hub. The hub launched in collaboration with Anza, an NGO comprised of an international team. In short, Anza provides support to businesses via a specially curated accelerator program that that is fully aligned with their « social business charter and potential to positively impact the Kilimanjaro region on a large scale ».
Although there is currently a large community of NGOs in the region Kilimanjaro, Kili Hub manager, Mary Bantug realized that there was a lack of dedicated work hubs. We caught up with Mary to talk about building community in East Africa, and the positive impact these hubs can have on the local ecosystem.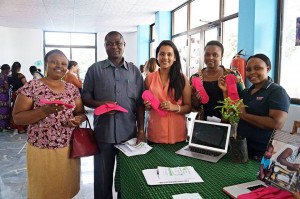 Hi Mary, can you please tell us a bit about Kili Hub, and what inspired the project ?
Our aim is to be the center of social change, the hub if you will, of social impact in the area. We've invited different NGOs to join us at Kili Hub, and we feel that by having their office here, we're encouraging that collaboration on a daily basis.
We also have events here, such as training, workshops, and work groups, in an effort to cultivate this culture of collaboration and show the community that we're "not just an office building", but that the whole of Kili Hub is working together for the community.
What's the professional community like in the Kilimanjaro region? Was there any previous knowledge of coworking or was it a novel concept for most people?
As previously mentioned, Moshi is a community made up of NGOS, safari tour companies, many small mom and pop shops and restaurants as well as entrepreneurs. Because it's a very small town, that "buzz" you might feel from large cities, such as Nairobi or Dar Es Salaam, is just not there.
From my own research and conversations had within the community, I see that the culture of "working together" is definitely there, but a formal coworking space where that is encouraged is still needed.
What were some of the things lacking, if any, in the professional community? In your opinon, how does coworking meet those needs?
There isn't necessarily that culture of "formal collaboration" and we aim to provide that. What I mean by formal collaboration, is a more the proactive push towards a culture of working together with the intent of looking for new ways that our efforts can align instead of just when need arises.
There is very much an "informal" culture that surrounds partnerships here, usually borne from the question "Do you know anyone who can help me with my work?"
A coworking space addresses this informality by raising awareness of the skills and knowledge available in the community. Through this approach, resources can be mobilized more efficiently and help to increase impact.
What steps did you take in order to introduce the community to coworking? Did you host events, make partnerships, etc?
We've held several events in late 2015.
First we had a launch event in September and invited the community to come visit the Hub, to see the space and meet others in the who are doing similar work.
We also held a few networking events for the professional community, in addition to smaller ones, such as happy hours and documentary nights.
Are you considering the possibility of networking with other spaces throughout the continent?
Yes we are! We have contacts with Impact Hubs in East Africa and are aware of the more independent coworking spaces in the region. Once more established, we are looking towards possible partnerships.